This is the Introductory page for a different set of fanfics by me...which...sort of...fits into the Visions saga...
Introducing the Visions Saga: Book Three Point Five
---
Attack and Counterattack (and Other Tales)
Begun December 2, 2003
In Progress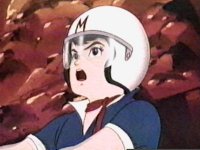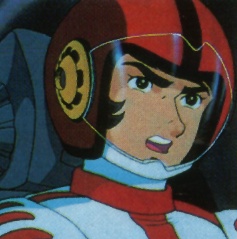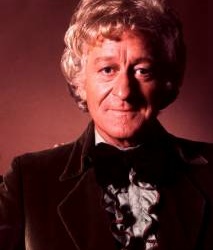 ---
What is this? Speed Racer, the Doctor and Derek Wildstar in one story on a Star Blazers/Yamato site? Has Freddo utterly lost his mind?
No, I don't think I've lost it...(yet) Rather, this is a "fun" piece I began doing on FanFiction.net in the Anime/Speed Racer category when, after reading some greater Speed Racer stuff there, I got an oddball brainstorm for a Speed Racer piece set in 1968 that includes spies, attempted assassinations, weird artifacts, strange SF-related plot angles, and bizarre high-tech stuff.
In other words, I decided to meld two of my favorite anime works along with some UNIT-era Doctor Who (Jon Pertwee's Doctor was famous for having weird high-tech devices in his tenure on the show...the bizarre humor came later on when Tom Baker took over the role of the Doctor) and this is the rather odd result.
This story has been well-reviewed on Fanfic.net...here it is presented with a few illustrations. Thanks for the reviews, those of you who are reading it as I continue on with it...and, now, for my regular readers here on Visions, I tender...Attack and Counterattack for your reading pleasure. (I hope) (Don't kill me. This tale is kind of weird)
---
Attack and Counterattack is being presented here, Act by Act (of course)
Act One Act Two Act Three Act Four Act Five Act Six
Act Seven Act Eight Act Nine Act Ten Act Eleven
---
The Fire in their Eyes (Complete)
This is a dark tale of anger, rage, rape, and violence in the year 2208 where Zoltar, of the terror organization, Spectra, is causing everyone on 2208 Earth great pain with his strange terrorist attacks. NOT A TALE FOR THE SQUEAMISH!!
It can be accessed HERE. However, ACCESS IS RESTRICTED TO THOSE WHO HAVE A PASSWORD
Contact me at: f r e d d o k 2 @ c o m c a s t . n e t (type letters into your e-mail program and remove the spaces) to obtain a password.
---
A Plunge Into Deep Water
In another side tale to The Visions Saga, the Wildstars deal with some changes in their lives and some marital tension as they take a PLUNGE INTO DEEP WATER in the year 2209.
I have just begun to post an edited PG version of this tale. Click on the following links to read this version of the story
The original story's rating is heavy R/NC-17….it includes some mature subject matter in both the text and art of the story. (not the sort of story to read at work)
It can be accessed HERE. However, ACCESS IS RESTRICTED TO THOSE WHO HAVE A PASSWORD
Contact me at: f r e d d o k 2 @ c o m c a s t . n e t (type letters into your e-mail program and remove the spaces) to obtain a password.
---
Coming Soon!
Unexpected Allies (as soon as I finish it: Running on Fanfiction.net)
We return back to the strange portion of the Universe and racing world as portrayed in Attack and Counterattack and we take you to the glorious days of the 1970's, where everyone is on a downer because of Vietnam, because of The Beatles breaking up, because of Nixon, because of changes in the racing world, and geez, aliens are sniffing around Earth again and timeholes are being opened to the twenty-third century. Confused yet? So am I. Will be posted soon (as soon as I get more written)
---
Of Pageantry and Tiaras
In a side story to The Visions Saga, Katrina Savela integrates more into life on Earth-and enters a beauty and talent contest for married women in OF PAGEANTRY AND TIARAS. This story, which takes place in 2211, has also begun to post on Visions.
Read Part One here. Part Two has finally posted; the link is here.
---
The Midnight Hour
In another tale in the "Visions Saga/Usurper and the Lady", the Bolar Federation, R'Khells, and Technomugar seek to invade Earth in the year 2214 at "THE MIDNIGHT HOUR."
Part One is now up and can be read HERE.  Part Two can Be Read HERE.  Part Three can be Read HERE. The rating is PG-13-enjoy!
---
The Test
This is a Joint Tale Written between myself and YUKI WILDSTAR.
In the year 2220, G-Force's career had just begun. Its first operational test is a joint training run; with the Star Force! Will both forces survive this meeting intact?
Read on and see!
Read Part One HERE Read Part Two HERE (Yuki's First Chapter) Read Part Three HERE (Freddo's Second Chapter) Read Part Four HERE (Yuki's Second Chapter)
Read Part Five HERE (Freddo's Third Chapter) Read Part Six HERE (Yuki's Third Chapter)
and Read Part Seven HERE (Freddo's Conclusion)
______________________________________________________________________________________________________________________________________________________________________________
Plausible Deniability
We move on to the 2220's. On top of all of what has been going on in the past few years on Earth, the planet and its growing short list of allies have been facing periodic attacks from a maniacal sponsor of Interstellar State Terrorism known as Spectra. This planetary dump and its lunatic leader won't fight fair by sending regular space fleets led by honorable or semi-honorable villains. They send terrorist weirdoes with bad masks in crazy-looking mecha instead. See more Tatsunoko madness meet the works of Leiji Matsumoto as my very alternate version of Battle of the Planets universe meets up with our heroes from 2199 as Bird Ninjas meet up with Space Battleships in a storyline that will either inspire you, amuse you, make you throw up, or convice you all it's time to take me away at last. Oh, and Gatchaman ends up in the mix as past history, too….
Blame fan writer Yuki Wildstar for giving me the inspiration; blame me for writing it!
Access the links below to read the tale:
Part One Part Two Part Three Part Four Part Five Part Six (contains some mature content)
---
MORE TO COME SOON! (If Gail can make Freddo calm down!)