The Test
Part 3
A joint tale by Yuki Wildstar and Frederick P. Kopetz
3. Flight Trials
DEEP SPACE-APPROCHING THE HORSEHEAD NEBULA
The Vicinity of Space Battleship Argo
Lower Flight Bay and Space
May 29, 2220
1312 Hours
Brimming with the confidence of youth, Mark jumped into his fighter, the G-1.
The G-1 was part of the Phoenix, and it normally nested in the larger ship's tail section. Right now, like the rest of G-Force's mecha, it was detached from the Phoenix, which was flying alongside the Argo in space.
This will be a friggin' piece of cake, Mark thought with a grin as he prepared to launch the G-1 from the Argo's lower fighter bay. I can beat any pilot aboard this ship in a fair training dogfight, and especially the Admiral, who is old, has kids, and must be losing his edge. I'd better go easy on the old gent. I don't want to show him up too much.
He looked around as he taxied to launch position, shaking his head at some of the Black Tigers walking past, glancing at his plane. Girl pilots, he thought as he looked at some of the pilots gathered around, especially some of the blond ones. They think they're hot…but they don't have anything on Princess, who is the only hot pilot I really know…hot…boy, she's hot….He began thinking of Princess in her miniskirt before a voice in his headset jarred him back to reality.
"G-1!" snapped Admiral Wildstar in his helmet. "I've been waiting for you to launch for the past one hundred seconds! Where are you? Having trouble reading our signal system? You have the green for takeoff, Mister."
"Where are you, sir?" asked Mark.
"Above you, actually. I just took off from the port catapult. My plane is a Type 52 Superstar with a red tailfin trimmed in white. I'm waiting for you to launch, son."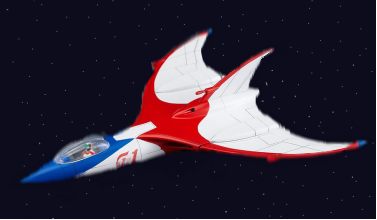 "All right…off we go!" said Mark. "LAUNCH!"
The G-1 took off a moment later, roaring from the Argo's lower bay into space at quite a good clip.
Mark leveled out and flew along at level flight, looking at the view for a moment before sighing and turning on his radar….
….only to detect a missile heading right at his six from straight behind.
"WHATTHE?" he roared to himself, jinking up just in time to avoid the practice missile that had almost actually hit the G-1. "Admiral! Where the hell did that come from?"
"From me!" snapped Derek. "And you should have avoided that five seconds ago! Or was your radar not working and you didn't detect me coming up on your damn six?"
"Right…right after I launched?" said Mark, who was utterly flabbergasted at Wildstar's speed for such an old man.
"Damn right!" snapped Wildstar. "It's happened to me quite a few times when I've had Gamilon or Cometine ships around. Those guys give you no mercy. Or do you think the enemy is gonna be a bunch of nice guys and let you level out and comb your hair after you launch from a mother ship?"
"Damn…I have a lot to learn."
"You sure do, Mark!" snapped Derek. "I'm a megameter away from you, matching your course and speed. Let's try that again…watch your radar….all directions."
"Yessir," said Mark, shocked at how he could have made such an asinine mistake.
Mark swung around again maneuvering hard, looking at his radar with one eye and his surroundings with another.
He caught the squeal of missile lock in his headset, but he broke the sound by flying about hard, swinging up 180 degrees, and catching Wildstar's plane in his sights.
Mark grinned and squeezed the trigger.
Red laser bolts skipped past Derek's plane as he easily avoided them.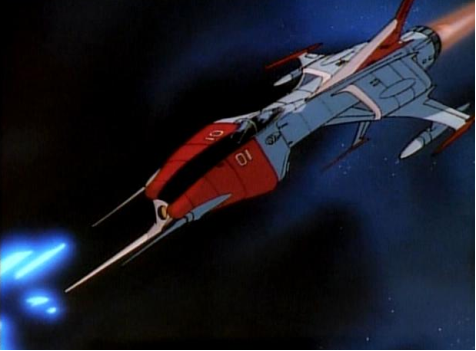 What is with this kid? Derek thought in frustration as he watched the obviously wet-behind-the ears young super pilot flying hard and quick towards an asteroid.
"PULL UP!" snapped Wildstar as he fired at the asteroid.
"You're trying to trick me, sir!" yelled Mark.
"NEGATIVE!" yelled Wildstar. "You were about to smack right into that asteroid! Did you think that asteroid was my…?"
A moment later, a missile roared past Derek's SuperStar.
"You allowed yourself no safety margin before discharging that!" roared Wildstar. Then, he saw it explode as it hit an asteroid. "And the warhead on that missile was supposed to be deactivated…and…"
Derek then glanced at his scope. Two. Three…Five blips appearing from out of nowhere.
Shit, he thought. Real enemy planes. And I'm out here with a kid with little real experience…and…
"Mark!" snapped Wildstar. "Pull the practice pins on your missiles, bring your lasers up to full, and watch your scope! We have real bogeys around us!"
"Real bogeys?" snapped Mark as he obeyed Wildstar's orders.
His answer came when something brown and green whipped past his ship, wheeled about like a bat, and came right at him, firing so fast that Mark could actually see the ugly green and brown uniform of the enemy pilot.
"Spectran!" he yelled. "What are you doing in our space?"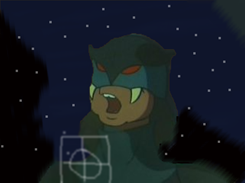 "What, curse you, are you doing in ours?" hissed the goon pilot flying the ugly-looking fighter ship. "Our High Chairman would consider this to be an act of war!"
"You shot at me and I'm gonna remember it!" snapped Mark.
"Well, you offend me by your existence, so I'm gonna remember this!" roared the enemy pilot as he fired upon the G-1.
Mark jinked his plane, but he took a glancing hit. He heard the Spectran laughing like mad over his headset.
Looking up, he saw one of the enemy planes exploding. Derek had drawn first blood.
"Why can't I do a damn thing right?" he said to himself as he fired at the enemy.
He smiled a little as his lasers rammed home.
Bulls-eye. The enemy plane blew to bits.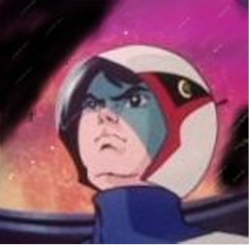 Mark Anderson had just brought down his very, very first Spectran in actual combat.
The Eagle, G-1, had little time to contemplate his first victory as two more enemy planes converged and fired missiles at him.
He snarled and just avoided the missile, flying into a multi-colored outlier of the Horsehead Nebula
His instruments went crazy for a moment as he caught the edge of a magnetic field; but then the instruments compensated for the presence of the charged gas and his gauges and radar went sane again.
Where the hell are they? Mark thought, a little confused by the fog of war that he was now in.
He found out a moment later as he caught a blip on his radar, and his bird was hit again.
A deep-voiced enemy pilot laughed like mad at him over his headset as he said, "Your plane looks like some mutant bird, you idiot!"
"That's because I'm a Bird Ninja!" barked Mark. "I'm one of five who act as one! Inseparable! Invincible!"
"You idiot," hissed the Spectran. "I just destroyed two of the Earthling planes that tried to jump me; seems your old wreck is sending out reinforcements! Or trying to! I'm going to finish you off next!"
"Try it!" roared back Mark as he wheeled about and fired at the Spectran…bringing himself into the sights of a second Spectran who got missile lock.
"Ha ha ha ha ha!" roared the Spectran. "I…"
The Spectran never finished, just screaming as he plane was struck from behind by a missile.
"What the?" said Mark.
"I've just made an opening for you!" barked an unfamiliar female voice, distorted with static, in his ears. "I suggest you use it!"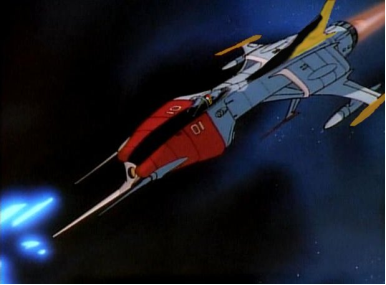 Mark fired, took out his second Spectran pilot, and then, his mouth fell open as he saw a second SuperStar fighter roaring up beside his own.
It had different markings than Admiral Wildstar's bird; this plane had a yellow tailfin decorated in shiny black, with yellow fuel tanks on its wings.
He looked at the cockpit, shocked that a slight-looking female in gold and black was flying beside him.
"D….Doctor Wildstar?" said Mark.
"No injuries aboard ship luckily; so I came out with Wakefield to see how you and Derek were doing," said Nova Wildstar in his headset, far more clearly now as they flew out of the nebula.
"We're in a bit of a jam…"
"Or you were," said Derek in his headset. "The enemy carrier has just warped out. "Of course, he left his last few pilots behind for us to clean up. Now, listen up. On the Argo, we have detected information that they are heading towards a small planet hidden in the nebula at WAX-112. Your G-4, Tiny, has gathered the rest of your team up aboard the Phoenix. Your job will be to make a rendezvous with the Phoenix, and go in there and investigate that planet and the Spectran base that we suspect is there. Can I trust you to do that?"
"You can, sir,"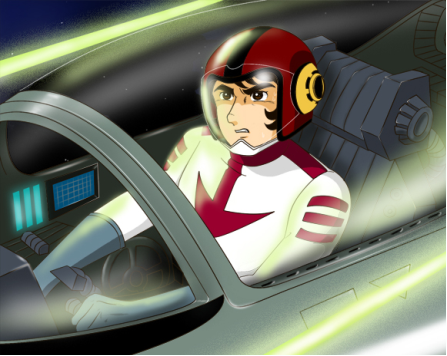 "Good going," snapped Derek. "Make your rendezvous with the Phoenix, and head in there with your team. I will be arriving at that planet behind you in a few hours' time with the Argo, but I sort of hope you can finish that base by yourselves first. Make this cruise really boring for us. Got that?"
"Yessir," said Mark, relieved at Wildstar's vote on confidence in him and the others in spite of his screw-ups in fighter practice and then in battle.
He was still rather embarrassed that Nova…a doctor…a…a…girl…had been forced to help save his bacon out there, but he thought, What are your allies for, but to offer help? Give me and the others some time and we'll beat the pants off you guys….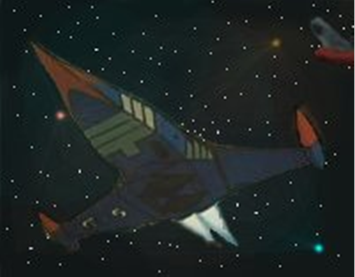 Mark switched channels and called up the Phoenix. "Eagle to Condor, over…."
"This is the Swan," said Princess over the headset. "I'm in temporary command of the rest of the team aboard the Phoenix, over!"
"What are you doing in command?" demanded Mark.
"Jason is in the head," giggled Princess. "He can't command us from the loo."
"Good thought," said Mark, who swung about and saw the Phoenix approaching.
He smiled with pride as he spotted his command coming up ahead of the Argo. "I'm on final approach, Princess. Let's get ready for our baptism of fire," he said.
"Good work," said Admiral Wildstar. "You will have to perform one warp to reach your destination. We expect to meet again in twenty-four hours. You have command of the team from this point onwards. God Bless and Godspeed."
"Yessir," said Mark. He saluted Wildstar's plane as it wheeled about and flew back to the Argo escorted by Nova and by Deke Wakefield in their own fighters.
Then, the Argo began to turn about and blast away, heading somewhere on Wildstar's orders. Mark did not know why. The Admiral was awfully close-mouthed about some things, and he guessed this was one of them.
Mark approached the Phoenix, shut his eyes, and waited as his ship clicked home and locked into his mother ship.
He was home.
Or was he? He was not sure, since they were about to head off on another mission…into the unknown.
-----------------------------------------------------------------------------------------------------
4. Captain Helgar's Disgrace
INSIDE THE HORSEHEAD NEBULA
Planet Karangeshta
May 29, 2220: 1812 Hours
Captain Smega Helgar, a long-time madman and killer under Zoltar's command in the forces of Spectra, smiled grimly behind his mask as he personally flew his spacecraft carrier, the Karaga, back towards Spectra's base on the bleak but livable Planet Karangeshta, a world conquered two years ago by Zoltar's legions.
Zoltar's mocking voice came up on his speakers. "Did you bring me the head of the Bird Ninja commander yet, idiot?"
"Not yet, sir," said Helgar.
"WHY NOT?" screamed First Chairman Zoltar of Spectra. The chief terrorist of this bizarre terroristic interstellar nation had on a particularly ghoulish shade of lipstick today, thought Captain Helgar.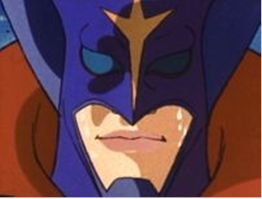 "First, sir. We found out that this boy, G-1, Gatchaman the Second, or whatever you call the punk, can fight. Second, he had help from the Black Tigers."
"Help from the Black Tigers," sneered Zoltar. "Do you think the Luminous One will be happy with you when I tell him that, you idiot?"
"No, sire," said Helgar.
"Do you think he will be happy with ME when I tell him that? He has roboticized others for far, far, less, you fool!"
"What do I do?" said Helgar.
"We must not underestimate either the stupid Bird Ninja or the cursed Star Force," hissed Zoltar, remembering the bleak time years ago on Gamilon when the Star Force had chased him down like an animal, and had made him disgrace himself when they had touched his imperial personage. "You will be ready for anything, Helgar. Finish off these Bird Ninja and then use our newest weapons to bring down the Space Battleship Argo. Are we clear?"
"Yessir," said Helgar.
"Defeat them," said Zoltar on Spectra as he cut off.
On Spectra, Zoltar was soon summoned by the Great Spirit.
He entered the Luminous One's audience chamber and shivered as the strange computer-being demanded of him, "What happened between you and Helgar, Zoltar?"
"He lost a battle to a 16-year old," hissed Zoltar.
"Who had help from other meddlers," hissed the Luminous One. "Now, you know that we are preparing the Space Terrapin for our first major attack upon the Terran Capital in a few days," said the Luminous One. "I have decreed that Helgar will be in command. You will supervise him. This operation must not fail. Thus, make certain that Helgar does NOT lose this battle with the Terran forces. He must not be disgraced, and you cannot be seen to be defeated, Zoltar. Are we clear, fool?"
"We are, Lord," said Zoltar.
"So, we must not lose this battle. You cannot lose this battle! Stand firm, Zoltar! You must win!"
The Luminous One faded as Zoltar bowed.
Zoltar smiled to himself.
He would take measures to be sure that Helgar did NOT lose this battle.
_____________________________________________________________
It was evening aboard the Argo.
Nova Wildstar, doctor, officer, pilot, sat in civilian clothes in the lap on Admiral Derek Wildstar in their bed, relaxing on a new set of patterned sheets in the Captain's Quarters of the Argo while they thought back over the events of the day. "Then, I take it you are not angry at me for leaving the ship before in my plane?" Nova said.
"Angry?" said Derek. "No. You were a Godsend. As usual, your timing was impeccable. I'm very glad you saved Mark's life out there."
"So were the rest of those kids," Nova said. "Oh, speaking of the kids, Ariel did ask before when we were going to be home, Derek?"
"I don't know the answer to that; do you?"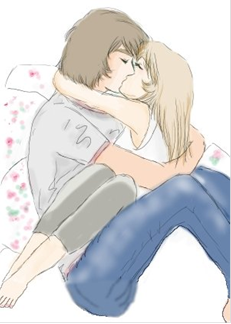 Nova shook her head. "No. I have absolutely no idea when we will be back home. But I do know one thing…"
"That is?" Derek said.
Nova kissed her husband and hugged him. "Well, your chest is very nice and warm, and you are learning how to make a nice, mean cup of tea, sir."
"I'm so glad," he said as they kissed.
"Do you ever worry about those kids; G-Force, I mean?" said Nova.
"Well, I do…but…"
"I have funny dreams about Mark at times, Derek. It's like he was connected to us some time in the past. I don't know how, but…"
"Maybe this is something to think about," said Derek.
"Maybe it is," said Nova. "But I'd rather think about us, right now…and our kids…"
"Me too," said Admiral Derek Wildstar. "Me too."
__________________________________________________________
It was now dusk on the western hemisphere of Karangeshta as the Phoenix slowly lowered through the clouds, heading towards a landing on a desolate moor a few kilometers away from the Spectran base.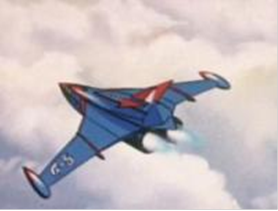 "Five minutes away from landin', Commander," said Tiny from the Phoenix's pilot's seat.
"We are not picking up anything…yet…" said Princess from the radar.
"With our luck, all those stupid bastards know that we're here already," said Jason with an acid grin. "I'm gonna regret that I didn't get more fuckin' chow from the Argo, guys," said Jason.
"Don't talk like that in front of Princess, Jason," snapped Mark.
"Oh? Wanna get in her pants?" sneered Jason.
"That's an order, Jason!" snapped Mark.
"Breep-brooopp, wash your mouth out w' soap," said Keyop.
"Whatever," said Jason with a grin.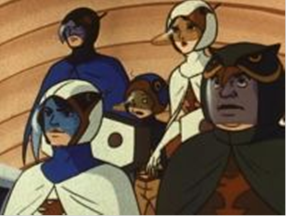 "Can't you ever be serious about anything?" Princess said. "Our first real mission and you're playing around."
"Relax, Princess. I'm gonna raise our body count within just a few minutes," said Jason.
"Will we?" said Princess, doubting Jason as they flew down through a bank of clouds.
A moment later, the radar bleeped.
"I have to scan that," said Princess.
In her Birdstyle uniform, she ran over to her post and began scanning. "Three bogies coming towards us; distance, eighty kilometers, speed, twenty-four space knots and accelerating," said Princess. "View up on central scanning screen.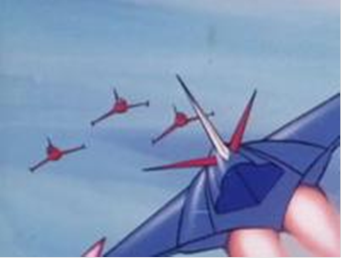 The Phoenix's main screen lit up. "Three birds," said Mark.
"Fighters," hissed Jason. "Dark red. And they're coming fast."
"Try to hail them, Tiny," snapped Mark.
"No answer," Tiny said.
"Guys, I think we are in our second battle today," said Mark. "All hands to stations…"
___________________________________
To be continued…..