This is the Introductory page for Book Four of the Visions Saga....
The Entropy Wars
---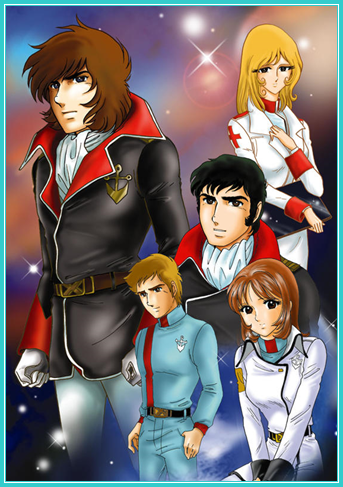 Updated November 11, 2017
The Entropy Wars is yet another work of Star Blazers fan fiction that I have had in my head for a few years.
I have both an "R" (adult content involved) and a "PG" (suitable for all readers) version of the tale up below.
To access the links for the "PG" version, simply click on them below. For the "R" version, use the username "sbfan" and contact me at f r e d d o k 2 @ c o m c a s t . n e t for an access password.
This is the sequel to The New Comet and, in this tale, twenty-four years after the end of The New Comet.  In the year 2231, a new generation is taking over on Earth, a generation that never experienced the testing of the Gamilon War, the wars with the Comet Empire, or the test of the Rikashan war.
While the Star Force still survives, this new generation has known only peace as Earth has become more wealthy and powerful, and, at last, Earth is considered a cornerstone of the peace of the Cosmos and has begun to become a great power on its own.
But, in becoming a great interstellar nation at last, has Earth lost its convictions and its soul? And can Earth avoid the whispered siren call of a great evil that still lives; an evil that wants to corrupt the new peace for its own vile ends?
This story, written by me with some technical advice from the late Derek A.C. Wakefield, continues the alternate-universe storyline set up in Visions of Love and Honor, The Rikasha Incident, and the New Comet, and it will be the Penultimate Book of the Saga when completed. The Visions Saga will then wrap up in Book Five: The Age of Aquarius, where Earth's next New Age begins at last.
The story begins in Chapter One. Unlike all of the other stories of the Visions Saga, this story will be told in a straight novelistic form as a single work in about thirty or thirty-five chapters (my estimate). I hope you enjoy it.
Splash page: (above) Old Friends, New Positions, 2231:
(Left to right: Admiral Derek Wildstar, Commander, EDF Combined Fleet, Captain Nova Wildstar MD, Commander,
EDF Medical Forensic Directorate, Rear Admiral Mark Venture, Commander, ESS Arizona, Captain Homer Glitchmann,
Commander, ESS North Carolina, Commander Holly Venture, First Officer, ESS Arizona.)
Frederick P. "Freddo" Kopetz-November 2017.
---
STORY CHAPTERS
Chapter One (PG version) Chapter Two (PG version) Chapter Three (PG version) Chapter Four (PG version) Chapter Four (R version)
Chapter Five (PG version) Chapter Five (R version)
Chapter Six (PG version) Chapter Six (R version)
Chapter Ten Chapter Eleven (with Artwork- R Version) Chapter Eleven (No Artwork)
Chapter Twelve (with Artwork-R Version)
Chapter Thirteen (with Artwork-R Version)
Chapter Fourteen (with Artwork-R Version)
Chapter Fifteen  (with Artwork-R Version)
---